"A wise man is the one who is happy by himself and because of himself."
– Swami Dayananda Saraswati –
Sonia Novaes
Founder of ATMA VIDYA
Sonia Novaes is a teacher and director at Ātma Vidyā, her love for Vedic tradition began early on, seeking to find a deeper understanding of the self, the world and God. She started studying Vedanta in 1997 with Shri Swami Vagishananda. She graduated in Philosophy and decided to deepen her study of Vedanta. In 2003, she went to Rishikesh to attend residential course on Vedanta, Sanskrit and Mantras with Pujya Swami Dayananda and Sri Swami Brahmavidyananda. Since then, she has made India her home, where she has lived for 16 years.

Nowadays Sonia lives in Auroville – Tamil Nadu, India, with her husband and two children. She dedicates her life to her family and to the studies and teachings of Vedanta, Sanskrit, Mantras and Indian culture in India, Brazil and around the world.

Maline Ribeiro
Teacher at ATMA VIDYA
Maline is a student of Vedanta, a yoga teacher, architect and Brazilian. During her graduation in architecture and urbanism which happened in the city of São Paulo, while going through long hours of traffic and public transportation, an enquiry about the purpose of life as well as the human dilemma regarding the feeling of inadequacy and dissatisfaction started to arise. By luck or grace the answer didn't take long to come – Maline had her first contact with Vedanta in the world of yoga, during her yoga teacher training program on hatha yoga by the Humaniversidade Holística, having its conclusion in 2017. Afterwards she continued her vedanta studies with recorded and online classes, until the opportunitiy to come to India took place.
Noticing that what presented itself as the solution for her questionings was the vision revealed by Vedanta, in february 2018 she attended the vedanta camps in Arsha Vidya Pitham in Rishkesh.
In September of the same year she dove into the course of 108 days on Tattvabodha and Bhagavad Gita texts. Sequentially, in 2019 she continued to the residential course on vedanta, sanskrit and chanting of mantras on Arsha Vidya Gurukulam, Anaikatti under the teaching of Swami Sadatmananda Saraswati.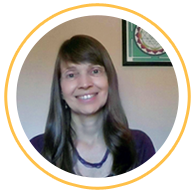 Miriam Barros
Translation & Revision
Miriam Regina Xavier de Barros – Practitioner of Yoga since 2003, she graduated as an instructor at the Isvara Institute in Campinas, and at the IEPY (Institute for Research and Studies in Yoga), in São Paulo. She performed the training in Yoga Hormonal Therapy with Profa. Dinah Rodrigues and specialization in Yogatherapy by the Institute of Yogatherapy of Campinas.
She has studied Sanskrit, Vedanta and Mantra chanting since 2008, having taken classes with Sonia Novaes, Paula Ornellas, Cecilia Muzetti and Gloria Arieira.